Fishing is a wonderful hobby, as well as a potential way to make a living for some people.
Whichever category you fall into or whatever your reasons for fishing, you'll be glad to know that you can get an awesome fishing boat without spending a fortune and without needing a place to store a huge boat.
The key is to go with inflatable fishing boats, and trust us, there are tons to choose from. There are so many, in fact, that we had a hard time narrowing our "best picks" down to just eight.
We did it, though, all in an effort to help you choose the very best boats to meet your needs.
Comparison Table
How We Chose Our Ratings
Before we jump in and share with you our picks for inflatable boats, you're probably wondering how we arrived at our ratings.
Rest assured that we didn't just pull our picks out of thin air. Nor are we sharing these choices with you in an effort to get you to buy something or to make you think a certain way.
Instead, our only goal is to empower you to make the best possible decision for yourself.
For that reason, we've spent hours doing research on the subject. We've looked at things like real-world experiences, sales and returns data, brand reputation, and more, all in an effort to help you make a wise purchasing decision.
Thus, with that in mind, we hope you'll feel confident in trusting our picks and using them to help you select the best inflatable boat possible.
Top 8 Best Inflatable Fishing Boats
Best Inflatable Fishing Boats #8:
The Intex Excursion 5 Inflatable Boat
Intex 68325EP Excursion Inflatable 5 Person Heavy Duty Fishing Boat...
INFLATABLE BOAT: The Intex Excursion 5 inflatable boat is suitable for up to 5 adults and has a 1300 pound capacity...
FEATURES: 2 inflatable seats with backrests are included for comfort and seating stability provides superior back...
MOUNTING:  Fittings for a motor mount are included for the flexibility of adding a trolling motor (motor and motor...
For the first item on our list, we had to go with this awesome boat from Intex, which makes a wide range of boats and other water accessories.
It is surprisingly buoyant and safe. That's due in large part to the 3 air chambers.
It's also very comfortable for an inflatable boat. The included backrests on two of the three seats will enable you to fish for long periods of time.
This boat even has built-in holders for your fishing rods and comes with 2 oars and a hand pump- everything you need to start fishing right away.
We did find the boat a little smaller than its advertised capacity of five people, especially when it's loaded down with gear. We also don't know how long this boat will hold up to heavy use, but it's probably only going to be good for a year or two for most people.
Still, though, it's a great "starter boat" and the perfect choice for novice fishermen trying to figure out if they're committed to the hobby.
Best Inflatable Fishing Boats #7:
The Teton Inflatable Fishing Float Tube
Sale
We're the first to admit that this next item on our list isn't a true "boat." However, it is a very affordable little float, built for one person, that is perfect for enjoying some downtime fishing.
Obviously, this item isn't going to cut it for the professional fisherman, but it's still a nice little product.
The material is surprisingly durable, so you can get a lot of use out of this float. Plus, we found it very comfortable, thanks in large part to the backrest, which is very cushy.
You should find this float easy to steer and maneuver as needed.
Best Inflatable Fishing Boats #6:
The Ancheer Inflatable Dinghy
No products found.
If you're in the market for an inflatable dingy, we'll be the first to tell you that it isn't nearly as easy to find as traditional inflatable fishing boats.
However, there are a few options out there, and this No products found. is one of them.
Like the other models on our list so far, it's an affordable product. It is also very durable.
Our only complaint about it is that it does not come with rod holders, so if this is an important feature for you, you may want to look at other options.
However, there is a nice tracking and stability system, as well as an aluminum deck and a comfortable bench.
All in all, we really like this dinghy. And, if you can overlook the lack of rod holders, it may be right for you.
Best Inflatable Fishing Boats #5:
The Intex Mariner 4 Person Inflatable Boat
Another good boat that you can consider is yet another offering from Intex.
We love the four sturdy valves, which make this boat super fast and easy to inflate and deflate. It's perfect if you dread the usual long set-up and take-down time of most inflatable boats.
You'll also enjoy the two included oars, crafted from sturdy aluminum, and the built-in fishing rod holders.
There are also inflatable seat cushions for superior comfort while you fish. In fact, we think this boat offers one of the most comfortable ways to fish without spending a fortune.
Best Inflatable Fishing Boats #4:
The Advanced Elements Straitedge Angler
Advanced Elements Straitedge Angler
Inflatable kayak; designed for anglers; features multi-layer material and patented aluminum rib frame
Abrasion pads offer maximum durability; wide beam increases kayak's stability
High-back seat with two rod holders and inflatable lumbar support; removable mounting rail
So far, we have tried to keep most of the items on our list as affordable as possible. However, this inflatable kayak definitely hits the wallet.
This kayak is perfect for anglers and, in fact, is designed specifically for them.
Even better yet, it comes with a one year warranty to protect your investment. Thus, if something goes wrong with your kayak, you're covered. However, we doubt you'll have to "make good" on that warranty. This kayak is very strong and durable and will probably last you much longer than a year.
The strong construction is owed in large part to the aluminum rib frame and the heavy-duty, multi-layer construction, as well as the abrasion pads which increase both stability and endurance.
Aside from the strength and durability, this kayak contains two rod holders, inflatable lumbar support, and can hold up to 300 pounds. All in all, it's an awesome kayak for fishing if you don't mind spending the money.
Best Inflatable Fishing Boats #3:
The Seyvlor Tahiti Hunt and Fish Kayak
No products found.
Since so many people are big fans of kayaks, we just had to include No products found. on our list.
This one is a whole lot cheaper than the above option, making it more accessible for the average fisherman.
This kayak doesn't have all of the great features you may want, like a rod holder or a motor mount. Despite that fact, though, it's still a great option for the fisherman on a budget.
We really like the moveable seats, which add comfort and flexibility while you're on the water. There are even spray guards to help keep you dry as you kayak and fish.
This little kayak can support two anglers or up to 360 pounds of weight, making it a fun option for a couple. We give this kayak a 3.5 out of 5.
Best Inflatable Fishing Boats #2:
The Airhead Angler Bay 6 Person Inflatable Boat
Sale
So far, most of our boat choices have only been designed to hold three people at most. This one, however, is perfect if you have a large group of friends you want to take fishing. With this boat from Airhead, you can transport six people on your boat without missing a beat.
Like a lot of the boats on our list, it comes equipped with two rod holders, a feature that a lot of fishermen just have to have. It also features drink holders too, which, to some, is just as important as a rod holder, if not more so!
The boat is made from very strong, durable vinyl that doesn't puncture easily. Thus, it should last you for quite some time even with heavy/regular use.
There are side-mounted oar holders and locks so that you don't have to worry about losing your oars as you fish. Plus, a motor mount is available as well.
Best Inflatable Fishing Boats #1:
The Solstice Sportster 3 Person Runabout
Solstice by Swimline Sportster 3-Person Runabout
Marine-quality aluminum slat floor and tough PVC-coated 500-denier 3-ply fabric
Heavy duty all around rub strake. Molded rope eyes with grab line. Heavy duty "D" rings for mooring or towing
Swivel Oar Locks. 3 high pressure air chambers. 16" tube diameter. Aluminum Bench Seat
The moment you've been waiting for is here. We are ready to announce our our top pick, which is this offering from Solstice.
We definitely noted the superior quality here. Almost professional level, this boat features an aluminum floor and heavy-duty 3 ply fabric in its construction. You won't find a stronger inflatable boat anywhere.
We also like the secure swivel oar locks, the fast-filling and emptying air chambers, and the high 595-pound capacity.
There are even some nice accessories that come with this boat. You'll enjoy a carry bag, foot pump, and oars, to name a few.
If you want to make one purchase and have just about everything you need for fishing, this boat will do the trick.
Buyer's Guide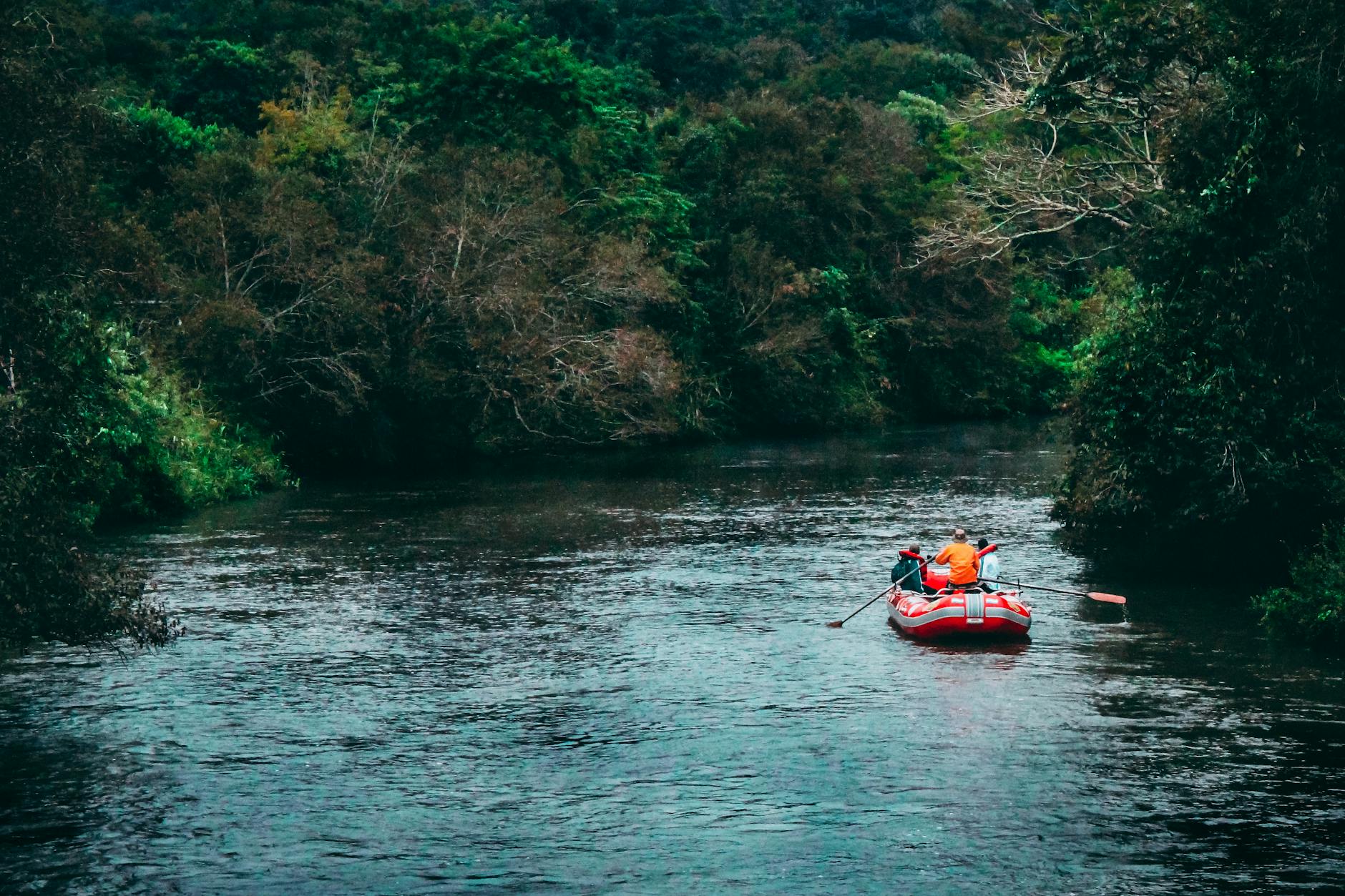 Image Source: Pexels
As you can see, there are all kinds of inflatable fishing boats to choose from. The key is just picking the one that's right for you.
And, while you'd do just fine to pick a boat off our list and run with it, you probably want to put a little more thought into it than that. After all, a boat is a pretty major purchase, even if you don't spend a lot.
Fortunately, though, by thinking about a few key things, you can easily choose the right boat to match your needs.
Consider Portability
One of the first things that you want to think about is how portable a boat will be, both when it's inflated and fully assembled and when it's not.
If you're just going to keep a boat in the same spot and drag it down to the water when needed, this probably isn't a big concern.
If you like to travel, however, and want to be able to quickly grab your boat and go without a lot of hassle, you'll probably need something more lightweight.
Know your needs and pay attention to how weight might affect those needs as you shop.
Do You Have the Storage Space for It?
Unless you want to take your boat apart after every single use (talk about a hassle!), you are going to need somewhere spacious and accessible to store your boat.
If you have a large enough yard, shed, or garage, then it's no problem. Sometimes, though, you might have to rent a storage unit or other storage space, which is a long-term expense.
Thus, be mindful of how much storage space you have and how much space you'll need with each particular boat you are thinking of purchasing.
Start Shopping Today
There is definitely a lot to think about when it comes to choosing a boat.
However, if you can keep these tips and our list in mind as you shop, then there's no reason you can't find the perfect one.
So, what are you waiting for? Start shopping today!
Featured Image Source: ​Pexels​
Last update on 2021-10-23 at 11:33 / Affiliate links / Images from Amazon Product Advertising API